Meet the latest in AR technology. INMO Air glasses display computerized information superimposed over the real world. It's a smart and safe wearable technology equipped with a powerful processor, side HD camera, advanced optical zoom and gesture control for hands-free communication and information sharing.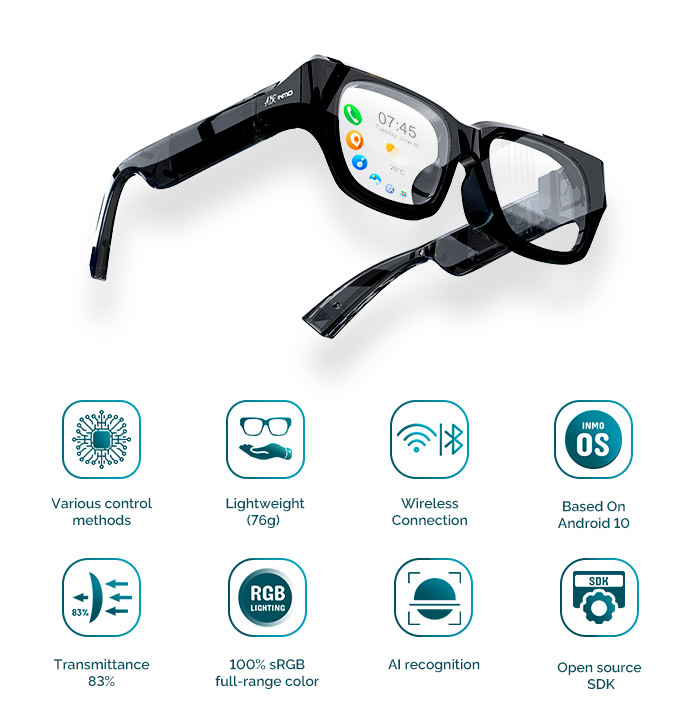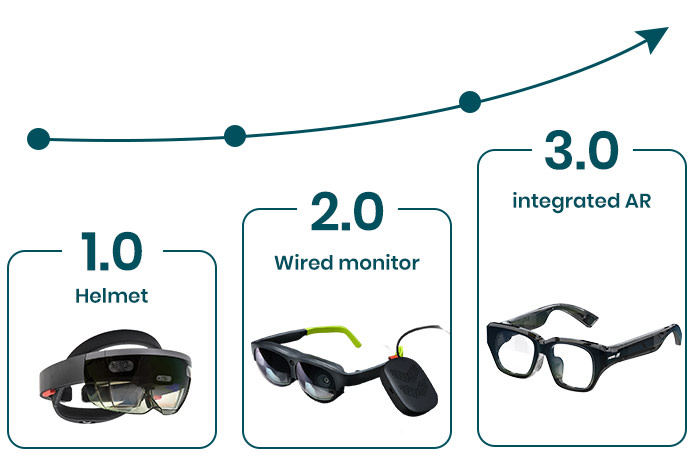 Get to know more about us & How Air Glasses can assist you in everyday life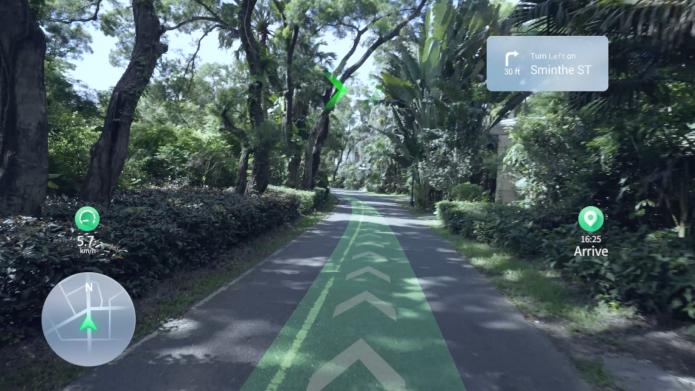 Navigate using GPS—  Set your destination and have detailed directions visualized right in front of your eyes.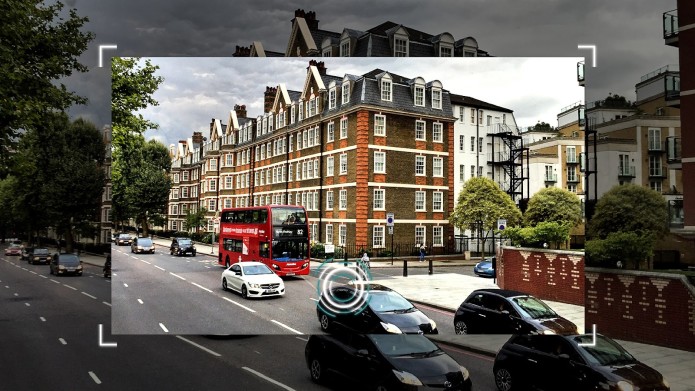 Take a picture or video from a first-person perspective without ever touching your phone.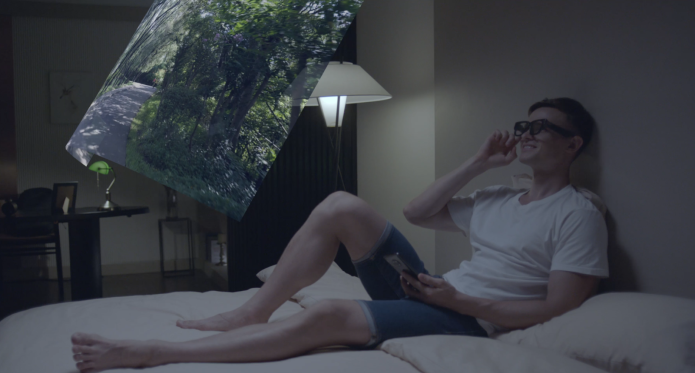 Watch videos without being disturbed, all without using a phone.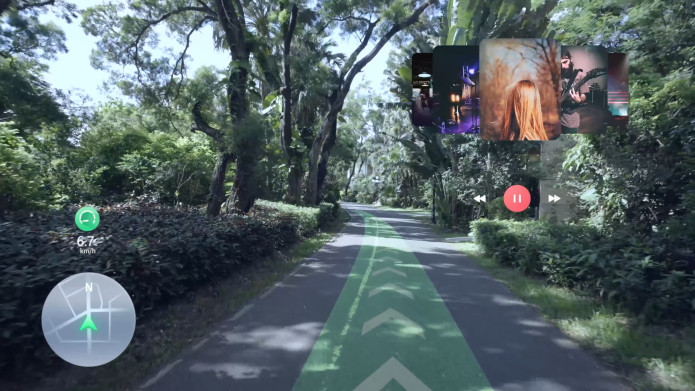 Play music and read the lyrics all within the lens. Swipe the INMO Air glass touchpad for volume adjustment and playback control.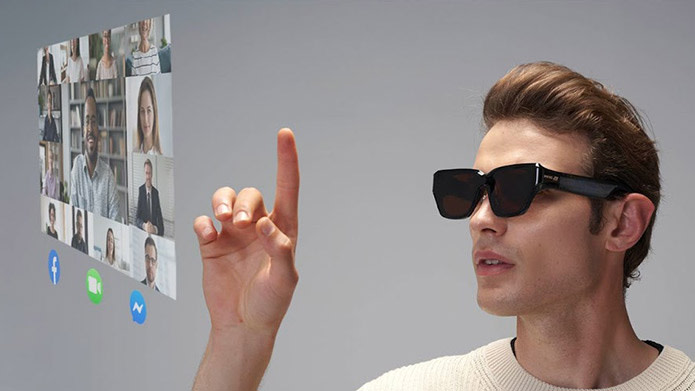 Communication has never been this easy. Join a group meeting and host a live broadcast with just a tap of a finger.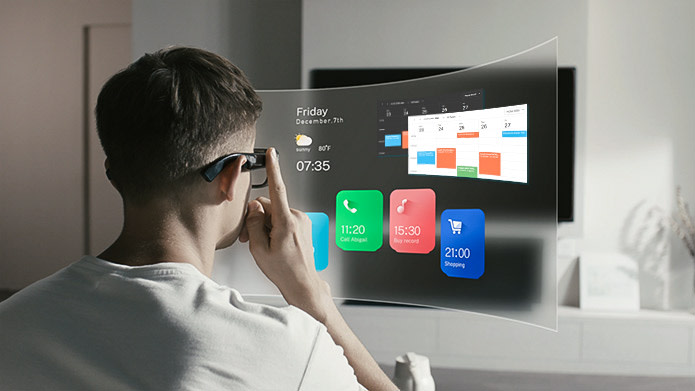 Let INMO Air sort out your daily schedule as your personal assistant.  Have all your notes and memos displayed in augmented reality. You can even check the weather before you go out.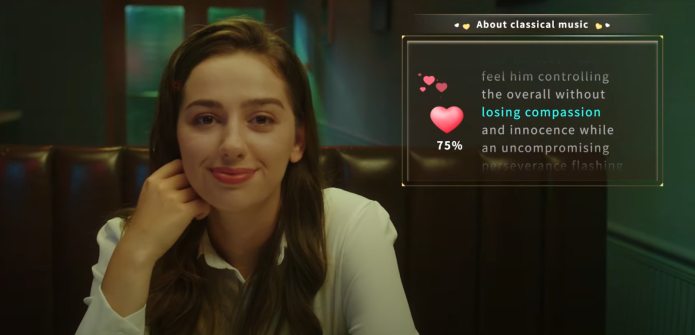 Ever been lost for words? Say goodbye to the days of being tongue-tied! Use the private prompter to prep you up for a business presentation or even a flash date.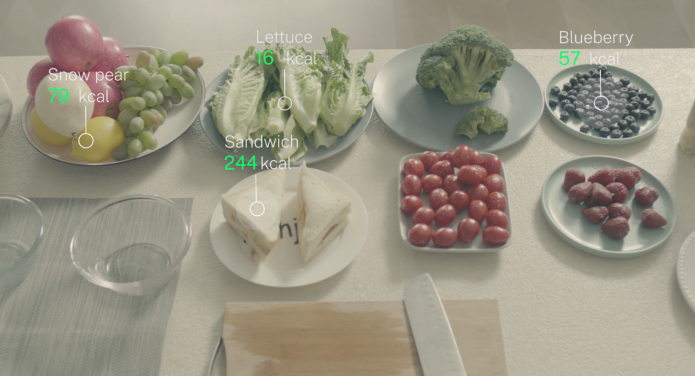 The INMO Air "sees" more than your eyes do. With its multi-functional AI recognition, you can now read the detailed information behind the object and make wiser decisions.
INMO Air comes with other great features including:
Check Social Media Notifications
Visual/Written Language Translation (AI recognition technology)
Spatial Positioning
Send and Receive Text Messages
and much more! ..The possibilities are endless!
With an Android-based system, INMO Air's functionalities can be extended with apps just like your smartphone
Typically, VR/AR glasses come with annoying wires or are just too bulky. Ditch the Cyborg look! With INMO Air AR our glasses are lightweight and stylish; update your wardrobe with the best technology has to offer!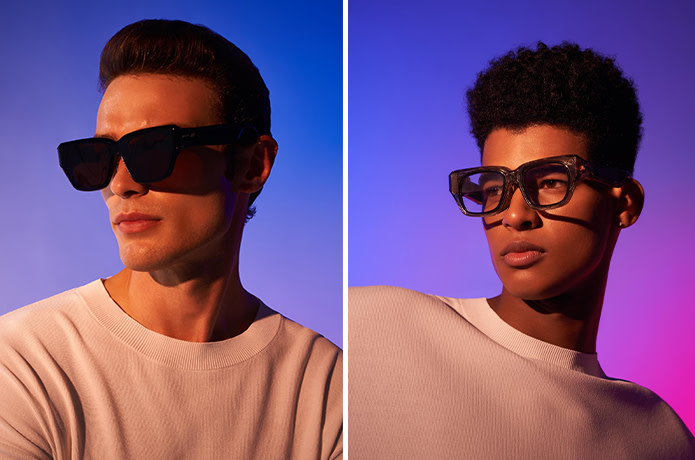 INMO air is intelligently designed to pack a lot of quality enhancements in a small body. Weighing only 76g; a very small size difference when compared to normal glasses.
INMO Air does not come with wires or controllers of any form, in fact, you are the "controller". Featured with touch, gesture, head movement, and voice control, you can free your hands from the controller and immerse yourself in the AR world.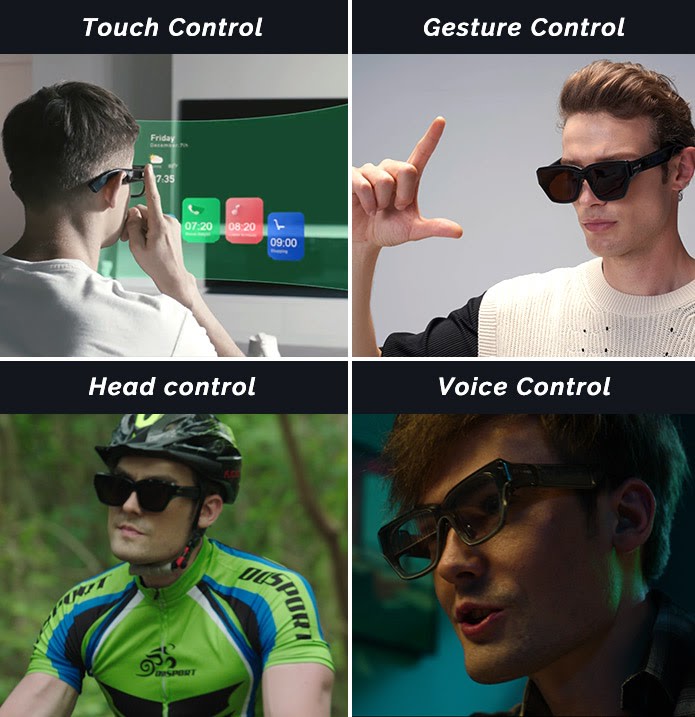 Touch Control
Simply use your fingers to swipe back and forth to access applications, single click to enter and double-click to exit.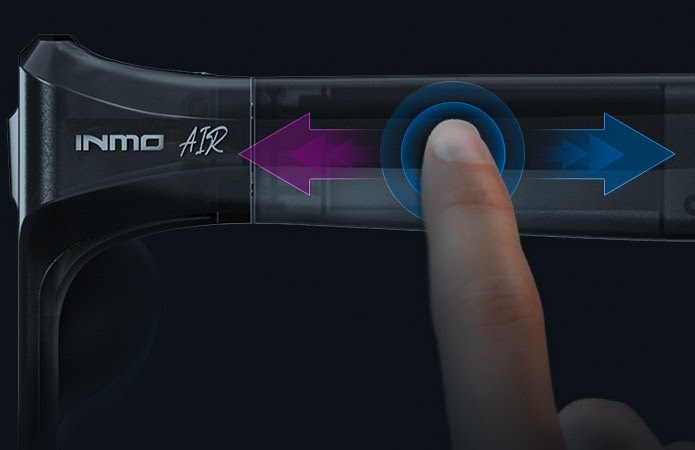 Gesture Control
Sliding left to right allows you to swap screens.  Clenching your hand into a fist will allow you to open and exit windows&applications.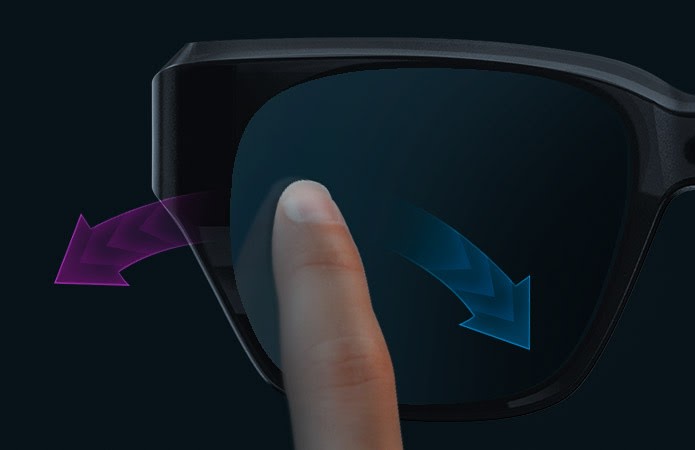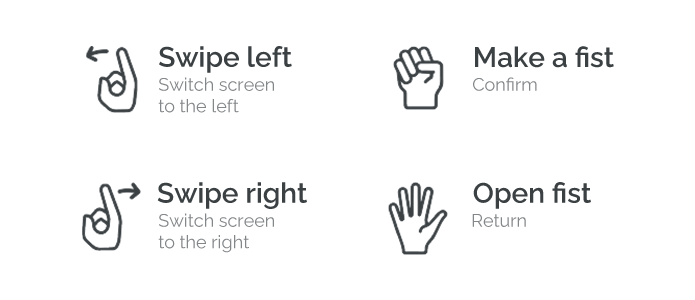 Voice Control
With the voice recognition feature (currently only available in English) users can easily control the device, hands-free.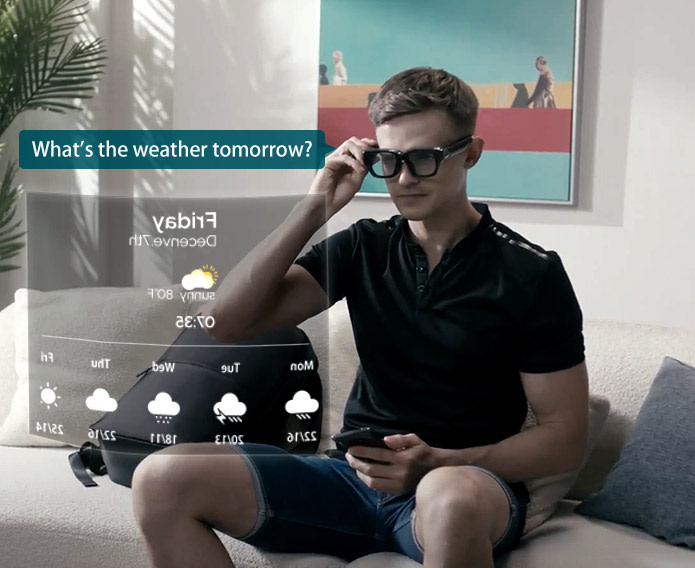 Head Control
INMO Air is equipped with a gyroscope sensor to track head movements and implement orders by gesture.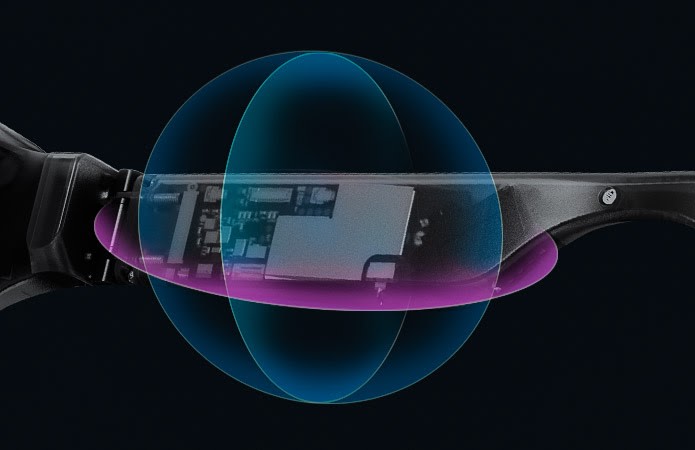 We have seen cinematic glasses calling themselves AR or VR glasses when they just simply put a small screen on regular glasses for you to watch videos. Technically, these can't be called anything but a miniaturized monitor when real AR glasses are equipped with a sensor to provide interactive operation. In other words, if you don't have a sensor and you need wires connected to another supportive device, you are not an AR product.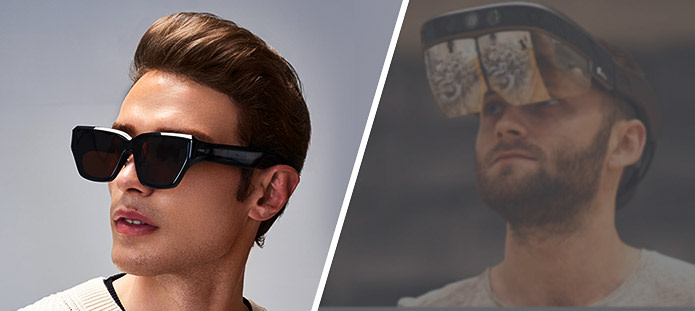 INMO Air is designed to be wireless and functions independently to any other devices. The AI sensor embedded in the camera makes it a capable smart assistant for everyday use.
Its lightweight and pocket-size body are comfortable enough to be worn anywhere. Most importantly, it's affordable; making INMO Air the World's First Consumer-Grade True Augmented Reality Glasses!
The visual experience is good, and the authenticity of the picture is closer to reality. 
Specs as contrast ratio 20000:1, 100%sRGB full color gamut. The light transmittance is 83%, which is closer to daily life, truly achieves zero occlusion, and the visual experience is excellent. Equipped with industry-leading display technology of optical waveguide see-through tech to enable an excellent visual experience. The thickness of the lens is only 3mm, which is the same as the regular glasses lens.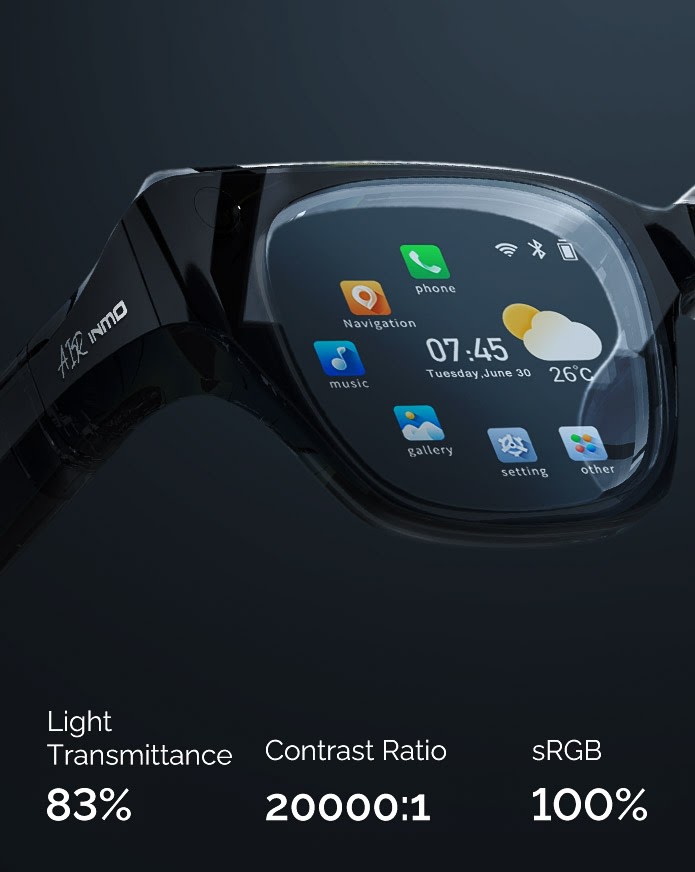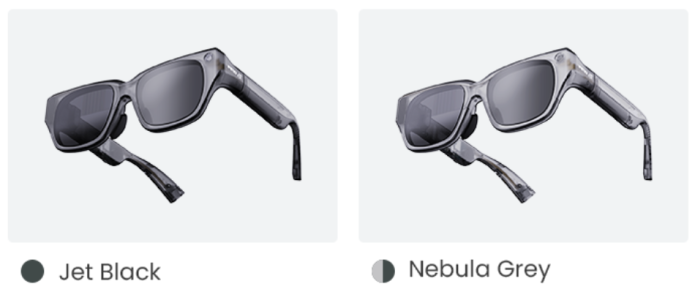 Two colors are available for choice at present. More color options will be announced in the near future!
The INMO App enables easy setup and customization of your Air and manages the communication link between the Air and your smartphone.